Main image
Click to view image in fullscreen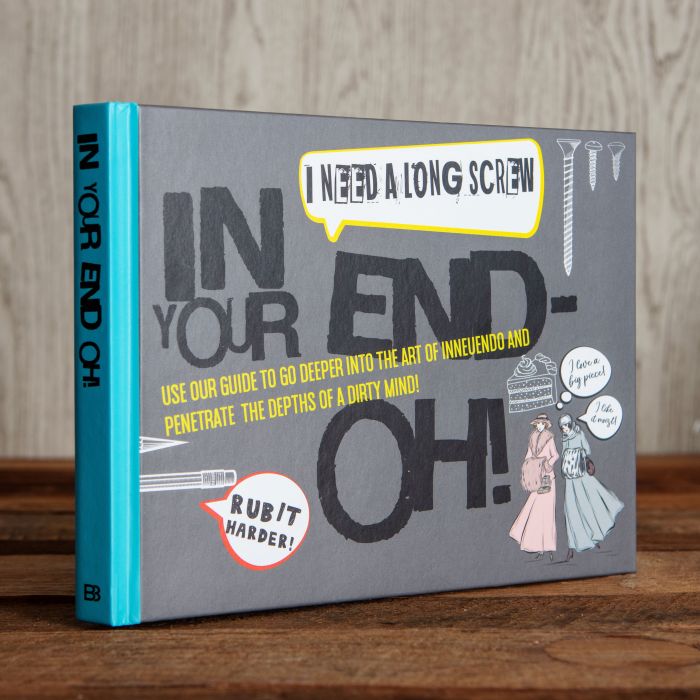 In Your End Oh - Innuendo Book
Get deep into the world of innuendos with this cheeky hardback book! Whether you are a giver or a receiver, this dirty adult book will have your sides hurting as you spread and flip the pages. With 144 pages filled with innocent pictures and not so innocent phrases, this funny adult gift book makes the perfect novelty Secret Santa gift for friends or colleagues who like looking at a nice pair of tits, playing with their pussy or double dipping their teabags!
ABSOLUTE FILTH – this hilarious novelty gift book is packed with some of the best innuendos around!
BIG AND HARD - This fun gift book is a hardback, so it's thick, bulky and solid as a rock! (wink, wink)
FILLED WITH FUN – With 144 pages filled to the brim with innocent pictures and not so innocent innuendos, this book is sure to have your sides hurting with laughter!
IT'S THE SIZE THAT COUNTS - This cheeky adult book is the perfect size at 19.8 cm long and 15.4 cm wide (not that size matters…)
ARE YOU A GIVER OR A RECIEVER? - Perfect as a cheeky self-indulgent gift to yourself or as a hilarious gift to a friend or colleague on their Birthday or as a Secret Santa at Christmas!
Depth : 15.40 cm
Height : 1.50 cm
Width : 19.70 cm