Main image
Click to view image in fullscreen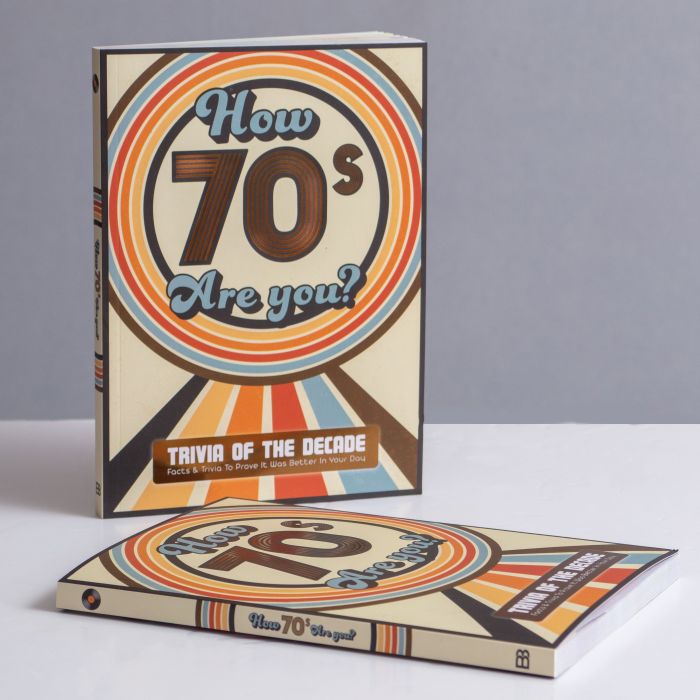 How 70s Are You? Trivia Book
Did you grow up in the 70s and want a trip down memory lane? Get your disco shoes on and go back in time with our awesome 70s themed decade trivia and fact book! Bursting with facts and trivia about everything, from music and film to politics and sport, and complete with hilarious jokes, inspirational quotes and even recipes from this iconic decade (featuring a lot of gelatine and cream!), you will soon be a certified 70s expert! With 144 fact, question and answer pages within a quality hardback cover complete with gorgeous orange foil, this is a great novelty gift for 70s enthusiasts to play with friends and family all year round!
THE GOOD OLD DAYS - Our Better In My Day 1970s Decade Trivia Book is filled with all things 70s! From awesome throwback music pages to shocking facts, weird 70's inspired recipes and hilarious joke pages, this book is perfect for 1970s fanatics! Also filled with hundreds of trivia questions on a variety of topics, play along and take a trip down memory lane!
TIMEWARP TRIVIA - Filled with 144 pages of awesome contents paired with quality illustrations, this gift book is perfect for decade fanatics!
GREAT GIFT FOR 70's LOVERS - Whether they grew up in the 1970s or are just superfans of everything seventies, this trivia fact book and game is the perfect novelty gift for friends and family!
Depth : 22.00 cm
Height : 2.00 cm
Width : 16.00 cm