Main image
Click to view image in fullscreen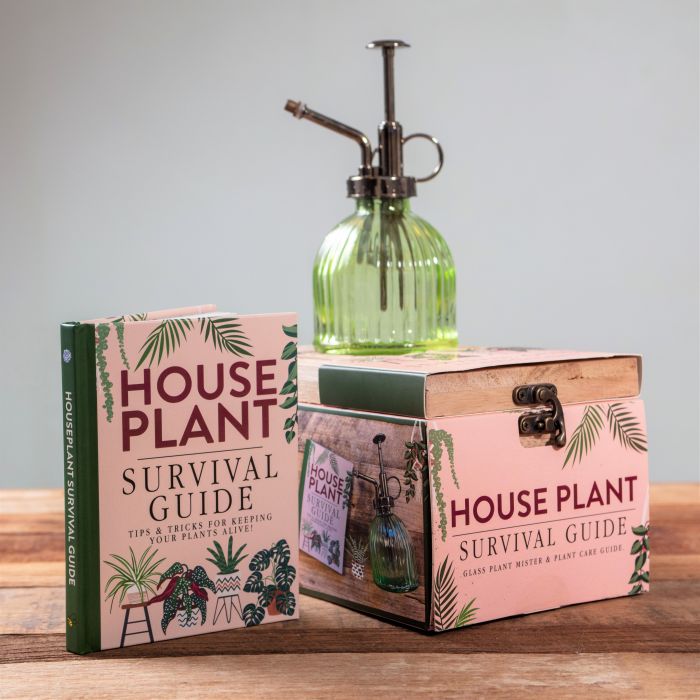 Houseplant Survival Set
Tired of your succulents always looking a little...sad? Or perhaps your herb garden just isn't working out. Our Houseplant Survival Set will help to keep your indoor plants alive! This set features a quality 96 page house plant guide, filled with awesome advice to help your houseplants thrive, and a gorgeous glass plant mister spray bottle included, all presented within a wooden display gift box!

Put down those gardening books for beginners! Our helpful houseplant guide will show you just how easy it is to care for a wide range of plants, from cacti and succulents to spider plants and herb gardens. The quality glass plant spray bottle is a wonderful and aesthetic addition to help you keep your home jungle alive!

The gorgeous wooden display box makes this perfect as a gardening gift for green-fingered friends and family who just can't seem to keep their plant babies alive! From a secret Santa gift for colleagues to a birthday gift for her, our Houseplant Survival Set will help anyone to grow their own happiness, one houseplant at a time!
SAVE YOUR HOUSEPLANTS - This Houseplant Survival Set features a gorgeous glass plant mister and a houseplant gardening book with tips and tricks to keep your plant babies alive!
QUALITY GIFT BOX - This glass plant mister and indoor plant care book is presented in a gorgeous wooden display box, making it a great houseplant or gardening gift for her!
GREAT GUIDE FOR YEAR-ROUND CARE - From a thriving herb garden to keeping your monstera huge, this Houseplant Survival Set is a great birthday or Christmas gift for green-fingered friends and family!
INFORMATION PACKED - The houseplant guide book included is features 96 pages of tips to keeping your indoor plants thriving, all paired with fun illustrations within a quality hardback cover!
BRING LIFE TO LEAFY FRIENDS - From succulents to cacti, herbs to ferns, our houseplant survival set is all you need to keep your plant babies happy and maintain your part-home, part-jungle to the max!
Depth : 13.00 cm
Height : 21.00 cm
Width : 11.00 cm