Main image
Click to view image in fullscreen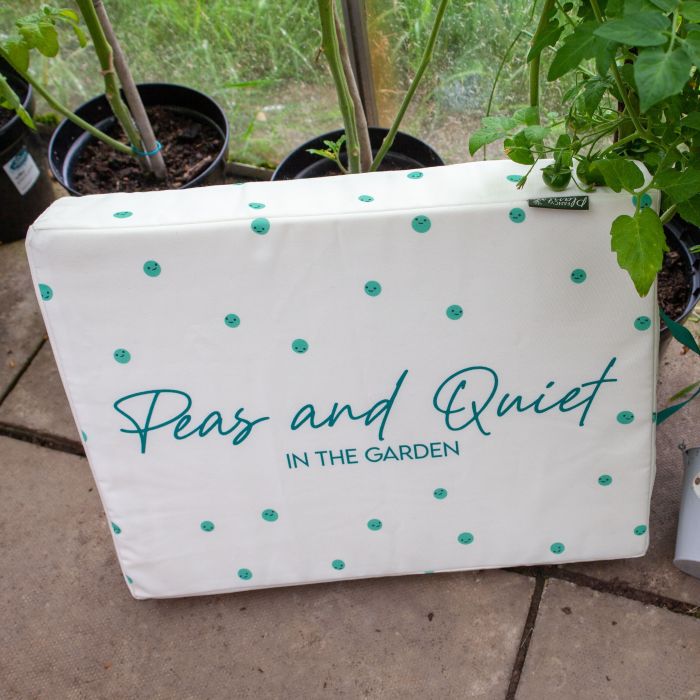 Gardening Knee Pillow - Peas and Quiet
For the perfect way to level up your gardening game, look no further than our fabulous new 'Peas and Quiet' Gardening Knee Pillows! Complete with a gorgeous graphic printed removable water resistant cover, with the fun and adorable slogan 'Peas and Quiet In The Garden', this stylish knee pillow is a must-have for gardeners wanting to stay fashionable in the foliage! Made out of 100% memory block foam, our Gardening Knee Pillows offer orthopaedic support, and featuring a removable, washing machine safe cover and handle to hang, is the perfect, easy to use and gorgeous gift for green-fingered friends and family!
GET GROOVY WITH GARDENING – Our fun Gardening Knee Cushion is covered in a quality design, complete on one side with the phrase 'Peas and Quiet In The Garden', and the other with a groovy pea-inspired print!
NOT A ONE TRICK PEONY – This knee pillow is complete with a sturdy handle for hanging in any shed or kitchen, and a removable, machine washable and water resistant cover, making it a gardening gift that lasts!
GREAT RE-LEAF AND COMFORT – The cushion itself is made form 100% memory block foam, offering great orthopaedic support, making it stylish and extremely comfortable!
GREAT GIFT FOR GREEN-FINGERED FRIENDS AND FAMILY – Our Gardening Knee Pillow offers sleek style and comfort to any avid gardener, making it a perfect novelty fun gift for gardening enthusiasts of all ages wanting to celery-brate, and is sure to put a smile on their face!
Depth : 46.00 cm
Height : 35.00 cm
Width : 8.50 cm