Main image
Click to view image in fullscreen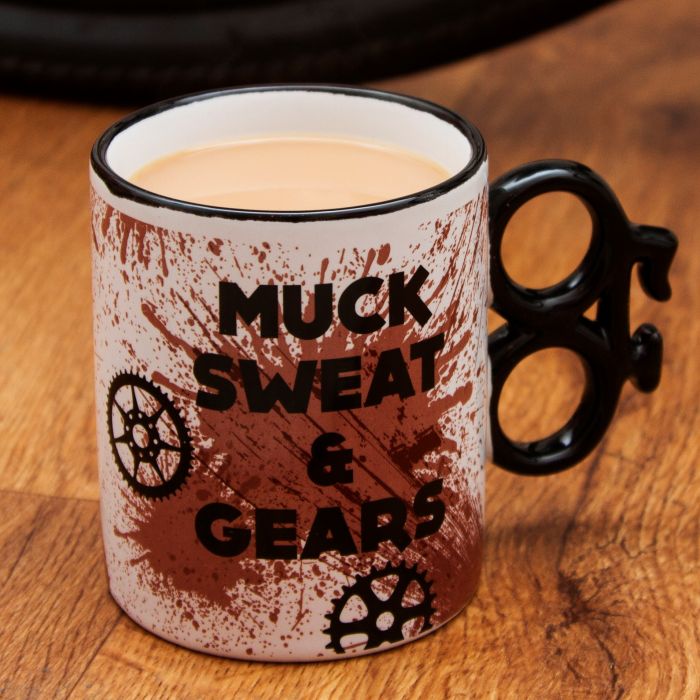 Muck Sweat & Gears 14oz Mug With Bike Shaped Handle
Get off your bike and have a brew! Hook your fingers through the bike shaped handle and swig your tea (or coffee, or hot chocolate) whilst proudly displaying the slogan 'MUCK SWEAT & GEARS'.
ULTIMATE CYCLING GIFT FOR ANY OCCASION - Whether it's for a cyclists birthday, Christmas stocking filler or father's day, this bike mug makes the perfect funny cycling gift for any cyclists!
UNIQUE BIKE SHAPED HANDLE – Unique cycle shaped mug handle adds a cool finishing touch to this manly mug. Don't be fooled by this novelty handle, it's still extremely strong!
COMES IN A MATCHING GIFT BOX - This fun cycling mug comes in a matching gift box that couldn't be any easier to wrap. It really is the ultimate cycling gift for men!
PERFECT MOUNTAIN BIKING GIFT - Looking for the best mountain bike gifts? Well look no further! This novelty bike mug makes the perfect gift for any mountain bike lovers!
MUCK SWEAT AND GEARS - Finished with the fun cycling themed sentiment 'muck sweat and gears', you can let everyone know that you're a seasoned cyclist or mountain biker!
Depth : 14.00 cm
Height : 10.00 cm
Width : 9.00 cm