Main image
Click to view image in fullscreen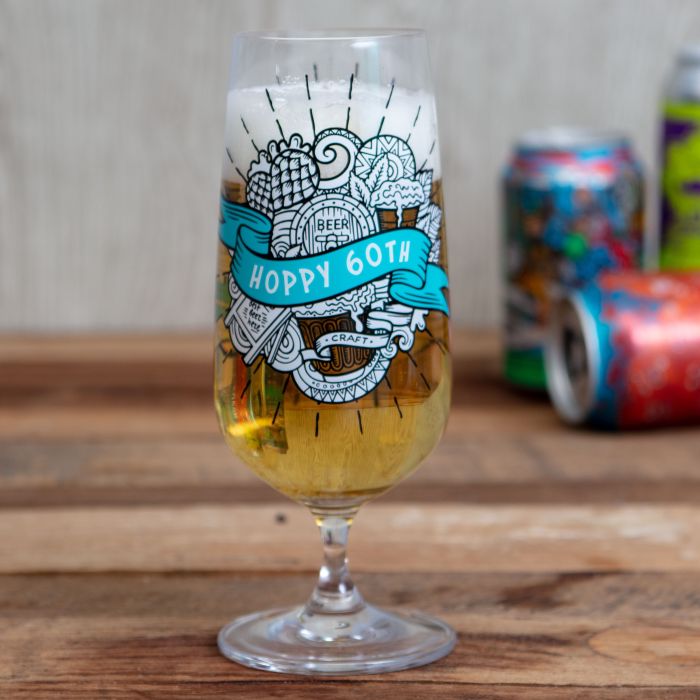 60 -  Craft Beer Glass
Buy a pr-HOP-er gift with our premium craft beer glasses! Decorated in high-quality designs and featuring a celebratory 6 decal, these tulip-shaped glasses make the perfect 6th birthday present for any beer lover! Presented in a matching gift box, this gift ensures that anyone – whether it's your husband, dad or grandad – can sip with style through their Sixties!
GREAT GLASS FOR A CRAFTY TIPPLE – This premium craft beer glass is covered with great themed designs and illustrations and a celebratory 'Hoppy 60th' decal, making it the perfect way to wish any beer-lover a hoppy 60th birthday!
THE PERFECT POUR – Printed onto a modern-shaped tulip glass, this craft beer glass is the perfect shape for any beer lover to look trendy with a tipple!
BOOZY BOX – Paired with a high-quality matching open box packaging, this beer glass makes a great beer themed gift from the get-go!
THE IDEAL 60th BIRTHDAY GIFT FOR HIM! – Featuring awesome sentiments to celebrate his milestone birthday, this craft beer glass is sure to please any beer lover on his 60th birthday, whether it's your brother, husband or dad!
Depth : 8.00 cm
Height : 19.00 cm
Width : 8.00 cm