Main image
Click to view image in fullscreen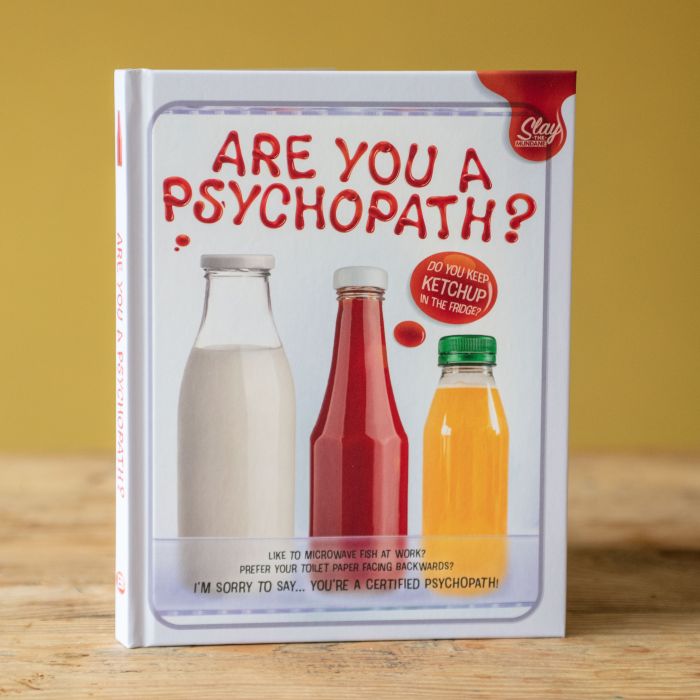 Are You a Psychopath?
People may look normal, but sometimes their habits can be a tell-tale sign that something isn't right. Relaxing with the ceiling light on? Repulsive. Ketchup in the fridge? Scary. And don't talk to me about wearing trainers WITHOUT socks. In this 128 page hilarious novelty book, flick through this list of carefully compiled tendencies, traits, habits, and acts that, if done, scream 'certified psycho'! Filled with fun illustrations, this tongue-in-cheek book is the only book you need to answer the question…are you a psychopath? Perfect as a novelty gift for friends and family who seem a little…off, this hardback book is a perfect present on birthdays or at Christmas!
REVEAL YOUR INNER PSYCHO – This hilarious, tongue-in-cheek gift book is filled with fun, silly signs that you're actually nuttier than you let on... are you guilty of these horrible habits? Are YOU a psychopath?!
SWEET BUT PSYCHO – From drinking orange juice after brushing your teeth to typing with Comic Sans, how many of these acts are you guilty of?
GREAT GIFT FOR FRIENDS – Presented in a quality graphic hardback cover complete with spot-UV detailing, this novelty book is the perfect fun gift for friends who have questionable habits!
Depth : 21.00 cm
Height : 2.00 cm
Width : 17.00 cm